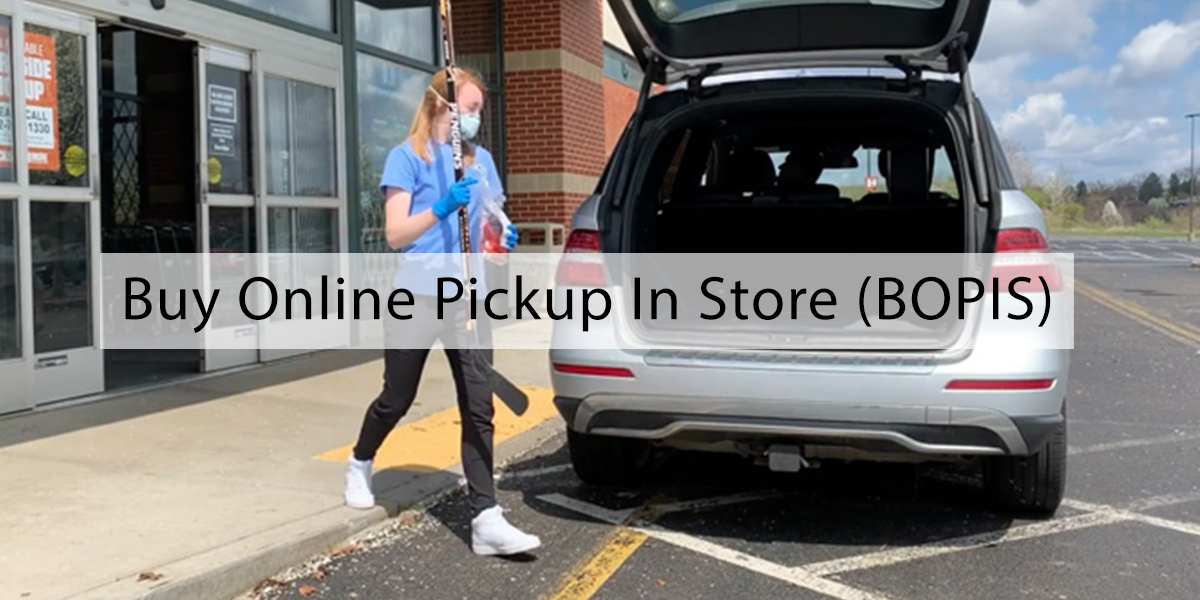 If retail stores don't yet have an online shopping experience available to their customers, then now would be a good time to set one up.  As stores are slowly reopening now that "Stay at Home" orders are being lifted, many are required to only offer curbside pickup and not let people inside yet.  As people become more accustomed to this new way of shopping it may become an expected service for stores to offer.  If a store isn't able to set up a website easily with ecommerce, then they should at least follow in the footsteps of restaurants with ordering over the phone and paying during the pickup. 
How to be successful with BOPIS
There are really only a few things you will need to allow customers to be able to buy your products online and pickup at your store:
1 – An Online Marketplace: If you don't have one yet, there are a plethora of companies like squarespace.com that you can use to set up an ecommerce site.  
If you don't want to build your own site you can use existing sites for a fee, check out this list https://www.websitebuilderexpert.com/ecommerce-website-builders/best/free-ecommerce-platforms/
If you want a custom solution or someone to build you a beautiful website and take care of all the hard work, reach out to the company we use: Neutech Agency https://www.neutech.co or call at (310) 956-3693.
If you are needing something free and/or don't have the time to set up a site, you can post photos of your products onto your companies Yelp,  Google Maps, Facebook or Instagram page and notify your customers to call in their orders over the phone.
2 – Employees Dedicated to Fulfilling Online/Phone Orders: BOPIS is shifting the physical shopping experience from the customer to the employee.  Depending on how large your store is and how large the orders are this could create a large increase in the work-load that your employees take on.
3 – A Dedicated Pick-up Location: Many stores right now are required to only offer curbside pickup and not even let customers inside.  Having an easily recognizable location for people to park at will be essential for the transaction to happen smoothly.  Putting up a large-colorful sign in front of the chosen parking spots is recommended. "One of the biggest issues is helping shoppers figure out how it works, says David Marcotte, senior vice president of cross-border retail at Kantar Consulting. With each retailer having their own system of moving goods from the store to the curb to the car, where shoppers should park and how they interact, it can be confusing."
Moving on into the future
As people become more comfortable with BOPIS they may be using the service even after customers are allowed to shop in-store themselves.  The reasoning for this may be: they have gotten use to the convenience, they feel uncomfortable in crowded spaces, or they can be sure you have the items they want in stock.  Whatever the reason, expect that this form of shopping will continue for the foreseeable future.  Test out your procedure with every necessary employee to ensure that the shopping experience goes smoothly for your customers and employees.
References
https://nrf.com/blog/how-retailers-are-adapting-curbside-pickup?utm_medium=LinkedIn%20Page&utm_source=Social&utm_campaign=Blog&utm_content=retailers%20curbside%20pickup
https://www.kgw.com/article/money/business/oregon-coronavirus-retail-stores-reopening-guidelines/283-d4339404-0c54-4911-bb3c-e81c08c20949
https://get.orderspoon.com/best-practices-blog/2020/4/11/top-5-tips-for-running-a-successful-curbside-pickup