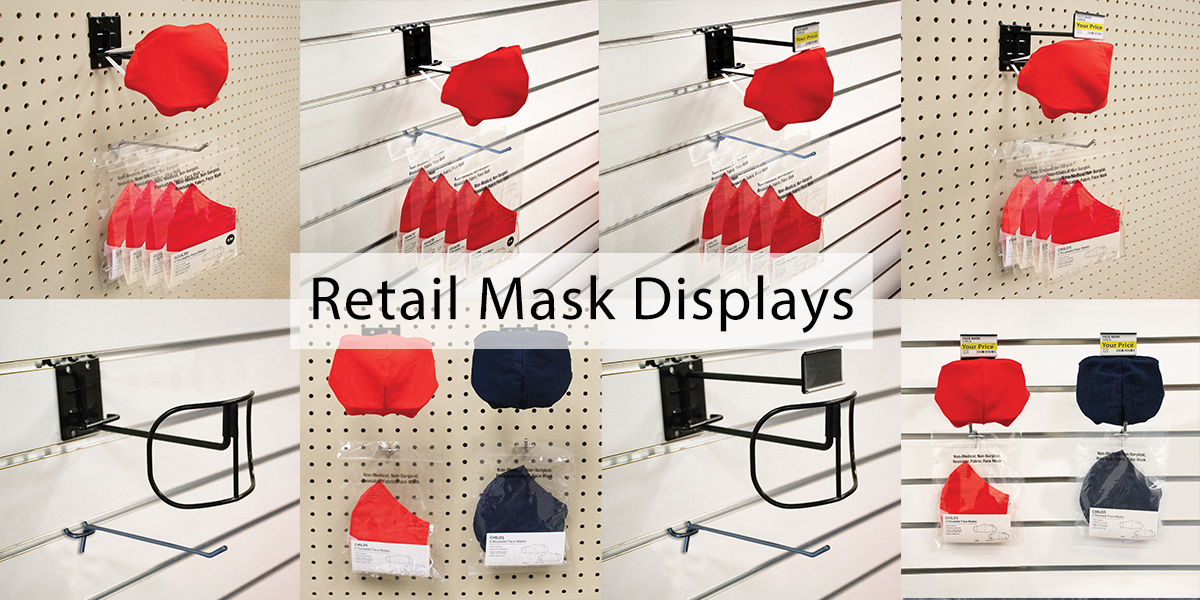 We developed these Retail Mask Displays because we knew that large and small stores alike across the country would be selling masks. Most locations just sell them in packages without being able to see what they would look like worn on a face. Our mask displays allow a store to showcase the mask that are being sold in a way that allows the customer to see what the mask looks like from all sides. This is especially important when wanting to see details or graphics that the masks have.
Our Retail Mask Displays offer a variety of options depending on your sales needs. First, all of our displays can attach to either standard slatwall or pegboard. Second, we have display sizes for both adult-sized face masks and child-size facemasks. Third, you have the option of a plain display or you could choose one that includes a price channel located above the displayed mask where you can display the product's price tag. Each Retail Mask Display comes with a 6" long product hook that can be attached to either slatwall or pegboard to hang your packaged masks.
With the constant changes that arise from the COVID-19 health crisis we are continuously finding ways to help improve the safety and well being of our community. Whether this be making Retail Mask Displays, Sneeze Guards or learning of a need that we can help fill in the future have the capacity to do so. Having our design and manufacturing located in the USA we have quick turnaround time which allows us to easily innovate to meet current needs.
We hope that these new Retail Mask Displays will be helpful to give customers an enjoyable mask purchasing experience and in doing so will help increase the sales of store owners. Feel free to contact us if you have any questions or comments about this or any other product.